An Activist Agenda – Co-created Knowledge
GSEI is one of twenty-seven activity centres in New Brunswick. Though the centres share common principles, Eugène believes GSEI is different. After a few years of working there, Eugène began to realize that even though he could identify with the people he was working with, he had too much power over GSEI activities. Deciding to transfer the power of the director to GSEI members themselves and extend the work of the activity centre into the community, and recognizing that chronic poverty is often a contributing factor in mental health problems, Eugène created a linked program of volunteer opportunities at the local SPCA, the YMCA, the general hospital, and the wider community, thus giving people the motivation and the opportunity to work their way back into the market economy.
Listen to Eugène describe how he works to empower others and "transfer the power of the director to the members themselves" at GSEI:
The newsletter Our Voice/Notre Voix was founded by Stephen Stiles in 1987. Stiles produced two issues before passing the project on to Eugène, who has run the publication ever since. Eugène sees mental health services as a consumer product and Our Voice/Notre Voix as a way of evaluating that product, and sharing experiences and observations about mental health services. Eugène believes that Our Voice/Notre Voix is successful not only due to the content but also because of its style. The pages are well designed with good graphics, it is the size and style of a professional magazine, but has a homemade appeal.
The reason why we're losing the narrative right now to the control of outside influences is because they know how to package their message….That's why Our Voice/Notre Voix stands out, because it is packaged in a way that makes people pay attention. We need to create strategies and building blocks to make sure that people pay attention to the cries and the plight of people who are trying to fit in a system that believes that one-size-fits-all.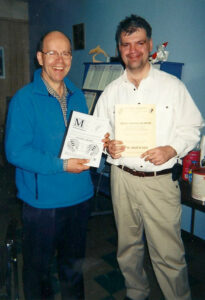 Eugène and Nérée collaborated on mental health satisfaction surveys in 1993 and 2003. The 1993 survey had a 76% completion rate. Eugène and Nérée agreed that participants be given a few dollars to share their experience. Among the results a few characteristics stood out about the participants:
poverty was widespread
most were on high doses of medication
they felt disconnected from psychiatry
they felt more at ease in self-help groups than in individual therapy in psychiatrist's offices
Once Eugène and Nérée found this information, they used Our Voice/Notre Voix to circulate their findings. The survey gave Eugène and the group credibility.
The 2003 survey was more in-depth than the 1993 survey and was completed on-line. There was criticism that interviewing activity centre users created a bias toward those services and against psychiatric services; but Eugène argues that surveys done by the mental health establishment are also context-biased and that it's important for this research to be done in activity centres too.
Nérée & Eugène share the process and results of the 1993 Consumer Satisfaction survey: