Exhibit Panels
Legacies of MPA was not intended to be a staid walk through history. Below we present excerpts from several of the 10 display panels that made up Democracy is a Very Radical Idea. This was the exhibit's most standard display of the past, yet it challenged easy understandings of radicalism by considering how MPA worked simultaneously alongside and in opposition to mainstream mental health. Graphic artist Willie Willis' design elements locate visitors in the 1970s and Vancouver, integrating pieces of MPA's vast visual, written and audio archive.
MPA encouraged members to combine what they knew about the mental health system with new skills they gained working within the organization. The group's radical policy of voting on paid positions provided tremendous empowerment to marginalized former patients, allowing members to take on new and important roles in the emerging community mental health system as ex-patient, community-member, advocate and community mental health worker.
Here we share the stories of five former MPA members who did this transitional work. The full panels can be accessed at the bottom of this page, and an extended version is available at A Utopian Experiment, part of the After the Asylum exhibit. The MPA Founders featured here helped us create this display, opening their memory boxes, both real and recalled, and we thank them for that. We acknowledge their generosity and creativity, but wish to underscore the fact that MPA's history is infinitely richer than the handful of people presented here.
In the fall of 1970, 28-year-old Lanny Beckman was newly discharged from the psychiatric ward of the Vancouver General Hospital and attending a day program at the Burnaby Mental Health Centre.
A series of suicides showed the gaps in the system and prompted the group of ex-patients in the day program to launch a collective response. A local newspaper columnist publicized the group's activities and 80 people came out to a public meeting. MPA was born. Lanny's participation was pivotal, not just to the group's success, but because he contributed the concept of participatory democracy to MPA, putting empowerment into the operational DNA of the group. 
Lanny was passionately committed to building a better mental health system, but from the bottom up. Using lessons learned from American protest movements of the 1960s, he led MPA in making experiential expertise a cornerstone of best practice.

Not all established organizations were comfortable with MPA's approach. When two directors from the Canadian Mental Health Association dropped by the new MPA house, Lanny noted that they were edgy and uncertain about the new kid on the mental health block. By 1971 Lanny had developed a clear and coherent critique of psychiatry and its institutions.
MPA cared deeply about providing compassionate support to people in distress. In the end, its function as a support service to ex-patients edged out MPA's radical politics. As member Geoff McMurchy recalled, "There was a really strong ethic of meeting people where they are and trying to accommodate their situations."
Working with co-founder Barry Coull and other early members and allies, Lanny quickly found funding for the fledgling group. An agile, innovative organization like MPA could move quickly to respond to both need and opportunity.  When Lanny left the organization in 1974, MPA was a thriving community with hundreds of members, a paid staff of 25 ex-patients and allies, 50 beds in MPA accommodation, and an annual budget of $150,000.
Supported by a collective knowledge base that Lanny helped put into place, other MPA members learned how to write successful grant applications, negotiate mortgages for MPA-owned houses, bargain with provincial government bureaucrats, and muster impressive displays of public and professional support when needed.  Forty years later, Lanny recalled this apprenticeship process as, "MPA at its best – a place where members developed their intelligence to deal with the real and complicated world to promote the welfare of the community as a whole."
Born in Toronto in 1942, Dave Beamish lived with what was then called manic-depression from his late teenage years onwards. He had already experienced several hospitalizations when he became involved with MPA in 1972.    
Joining MPA changed Dave's life. Dave found not just a new identity but also a new purpose at MPA, which propelled him to larger regional and national mental health organizations. His story shows how MPA gave members the opportunity to create careers as experiential experts and advocates in the emerging community mental health system. This was a powerful process, and it reshaped both the lives of individual members and the meaning of community support.
From the beginning, MPA members elected people to its paid positions at general membership meetings. In 1972, while new to MPA, Dave successfully ran for the job of Drop-In Coordinator. Dave grew as a leader by watching and learning from others. MPA colleague Fran Phillips encouraged Dave and helped foster the self-esteem necessary for Dave to emerge as an effective activist and advocate. Fellow MPA members knew what it took to draw out the sometimes reclusive Dave – even climbing through his bedroom window at the West End MPA house to see how he was doing. These caring gestures created a space for Dave to grow and become an ambassador for MPA's model of empowerment and community for ex-patients.
Politician and activist David Reville on Dave:
Historian Jayne Whyte recalls Dave:
MPA's long rambling general meetings gave members a chance to speak their minds.  For Dave, like many others, this was a new and life-changing experience. Learning to speak up in a safe environment made Dave an effective spokesperson about his own experience and on behalf of other ex-mental patients.
When the CBC was looking for a patient perspective on Vancouver's escalating housing costs in 1981, Dave was an articulate speaker on behalf of people re-joining an often-unwelcoming community after hospitalization. 
The pages of In a Nutshell provided Dave with another way of becoming a mental health advocate with experience: "King of the World" is a rare creative expression of the joy of being manic. In another poem he wrote, "I'm an ex-mental patient/ Think I'll make it my career."
Frances (Fran) Phillips was not an ex-mental patient.  Like many early MPA members, she was an ally who shared the political goals of MPA and contributed to the work of the organization.  Beginning in the early 1970s, she worked as an elected residence coordinator at MPA for almost a decade. MPA members recall Phillips as a resourceful and supportive colleague. Artist Kathy Portland Frank carved a lithograph of Phillips in her honour, entitled "Homage to Fran Phillips." 
What was unique about Fran was the fact that she – alone among the MPA community – came to the group as a mental health practitioner and made the move from a professional position to work in this radical grassroots organization.  Fran Phillips was forever changed by the process.
By 1972 Fran was attending general meetings as a member and contributing to In a Nutshell. She soon took on a paid position, successfully running for election in 1973 as a residence coordinator in one of the MPA houses. "Phillips was given the job not because she was a nurse," Jackie Hooper noted, "but because she was an MPA member."
Fran made change too. She was a strong proponent of deinstitutionalization and self-empowerment. Fran reported on the positive change that people could make in MPA homes in a 1973 Nutshell article. Quite outspoken, she said it all came down to a choice: pitch in, for example with the household tasks, or "play the hospital game," that is, submit to letting others do things for you.  Fran also made change in her professional life, using her credentials to educate others about MPA's self-help model.  With Dave Beamish, she gave talks at local secondary schools, college and university classes and public meetings.  
Fran Phillips transformed herself inside MPA and then became an agent of positive change for those around her.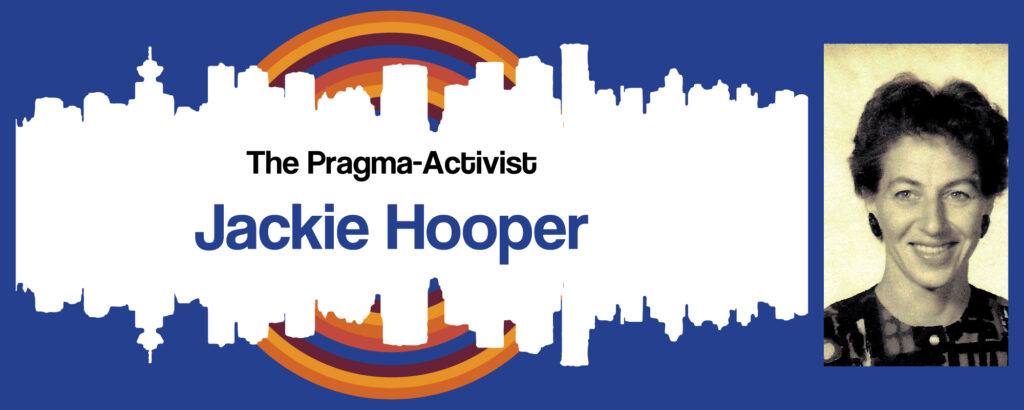 In 1970 Jackie Hooper was a middle-aged divorced mother of two with university degrees in economics and library science and a long work history.  She joined MPA after her life spun out of control and she found herself at the new UBC psychiatric hospital.
A pragmatic activist, Jackie came to the group with a fully-formed plan for providing former patients with independent but supported apartment units – a first in Canada. MPA gave members like Jackie stability and community, and the skills she had acquired through higher education and previous jobs were valuable assets for the new group. But at MPA, Jackie's expertise as a user of mental health services was also regarded as important, overlapping with an emerging set of credentials as an advocate and activist.
Jackie was elected to administrative positions within MPA. She served as Office Coordinator and did liaison work with the provincial government. Over the 1970s she wrote for and edited In a Nutshell. She met with NDP Minister of Human Resources Norm Levi to develop programs for newly discharged Riverview patients and she fought hard and effectively for provincial funding through the 1970s.
From the beginning of her time at MPA, Jackie's interests centered on patient rights and housing for former patients. To Jackie, patients were always the experts on what worked best for them. In her 1976 article on the need for a mental health advocate within the BC government, she made it plain that MPA, as an organization of ex-mental patients, was right for this role.  
Jackie's years at MPA were fundamental to the way Jackie's subsequent career as social worker and housing activist unfolded, consolidating her identity as a pragma-activist: an ex-patient, advocate and mental health expert. The story of the Hooper Apartment Block in Vancouver's West End demonstrates how Jackie employed her astute advocacy and her MPA connections. Working with Coast Foundation Research Director Peter Tomlinson, Jackie took the lead in pushing the Foundation towards providing supportive apartment housing. Jackie's

Portions of the exhibit panel texts previously appeared in the Oral History Forum (Boschma, Davies, Morrow, 2014) and the After the Asylum/Après l'asile webpages https://madnesscanada.com/peer-support-activism/ and are used with permission.